Yu-Gi-Oh! – Gold Series 5 Haunted Mine Booster Box 5 Pack
Sale!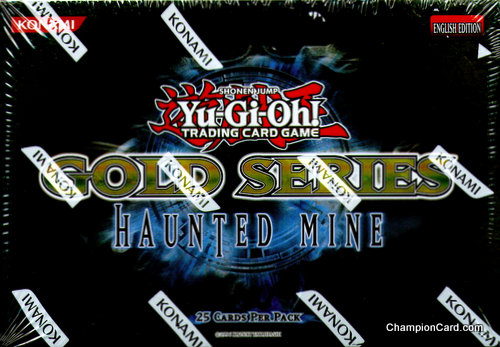 Konami Digital Entertainment is proud to bring you the Gold Series. The Yu-Gi-Oh! Trading Card Game Gold Series Haunted Mine is the first time ever to see the new Ghost/Gold Rare hybrid cards which contain the luster of a Gold Rare Card and the 3D holographic illustration of a Ghost Rare card! There will be 6 Ghost/Gold Rares to collect.  Duelists can get the Blue Eyes White Dragon, Gorz the Emissary of Darkness, Herald of Perfection, Naturia Barkion, Mystical Space Typhoon, and Solemn Judgment. (This is also the first time ever that we've released Spell and Trap Cards with 3D holographic Ghost Rare artwork!)
Factory sealed Yu-Gi-Oh! Gold Series 5 box

Each box contains 5 packs with 25 cards per pack!!

The set consists of 55 cards and each pack will contain 1 Gold/Ghost Rare, 2 Gold Rares, and 22 Common Cards.

SEALED AND BRAND NEW!
Out of stock