USAF B-52H "Cold War" Stratofortress: Minicraft
Sale!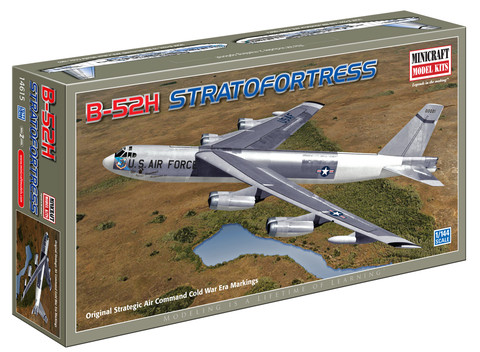 USAF B-52H "Cold War" Stratofortress: 1:144 scale
The B-52 Stratofortress is an eight-engine strategic jet bomber designed to replace the ten engine piston/ jet powered B-36 Peacemaker.  The B-36 was powered by six huge piston engines and four additional jet engines.  The B-36 Peacemaker had several design limitations that the B-52 did not have.  One: the B-36 was not air refuelable, but the B-52 Stratofortress was air refuelable. And two: the  B-36 was relatively slow when compared to the all jet powered B-52.  The original specification of the B-52 was for intercontinental nuclear deterrence but it was adapted to the conventional bombing mission during the Vietnam conflict.
Decal Versions:
B-52H, 60-0021, 449 BW, Kincheloe AFB, early 1960s
B-52H, 60-0049, 19 BW, Wurtsmith AFB, 1962
1 in stock