Tyrannosaurus Diorama Set #2 By: Tamiya
Sale!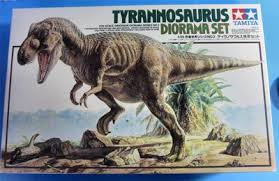 Tyrannosaurus Diorama Set #2 1:35 scale
This is the Tamiya Tyrannosaurus Dinosaur in a Diorama setting. Tamiya's Dinosaur Diorama Series uses the latest scientific theories to reproduce highly realistic and convincing models. You can use the Tyrannosarus Diorama to produce your own dinosaur environment.
FEATURES:
1. Body parts, base parts, metal parts, foliage sheet.
2.Instructions thoroughly researched and educational.
3.Highly accurate in scale and pose.
4. Lifelike skin appearance (tan plastic parts).
5.Base parts (brown plastic).
6. Includes (1) green foliage sheet (leaves, palms).
7. Sprue tree (all parts are numbered for easy assembly).
8.Body parts may be painted.
1 in stock