Tu-160 BlackJack: Trumpeter
Sale!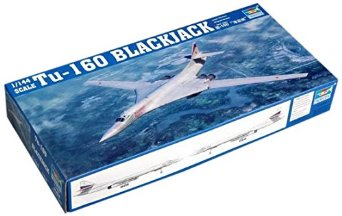 Tu-160 "BlackJack" : 1:144 Scale
The Tupolev Tu-160 (NATO reporting name: Blackjack) is a supersonic, variable-sweep wing, heavy strategic bomber designed by the Tupolev Design Bureau of the former Soviet Union. Although several civil and military transport aircraft are larger in overall dimensions, the Tu-160 is the world's largest combat aircraft, largest supersonic aircraft and largest variable-sweep aircraft ever built. Only the North American XB-70 Valkyrie had higher empty weight and maximum speed. The Tu-160 has the heaviest take off weight of any military aircraft besides ultra heavy military transports.  Entering service in 1987, the Tu-160 was the last strategic bomber designed for the Soviet Union.  Sixteen aircraft are still in use with the Russian Air Force. A planned modernization of 10 aircraft to Tu-160M standard has been announced.
Model Details:
Recessed panel lines,
Detailed cockpit and wheel wells,
Optional pivoting wings,
Extendable refueling probe.
Decals for 2 aircraft.
1 in stock