Triceratops Diorama Set #4 By: Tamiya
Sale!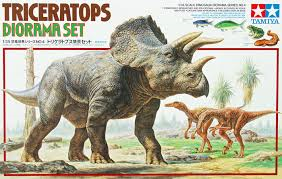 Triceratops Diorama Set #4 1:35 scale
Paleontologists have recovered fossils of the Triceratops that lived in large herds during the late theorized Cretaceous period, similar to how elephants are seen today. The Triceratops are theorized to have lived this way in order to protect their young from predators, like the giant Tyrannosaurus and the vicious Velociraptors, which were active during this same period. The sharp facial horns of the Triceratops would have been successful in fending off such predatory attempts to attack the herds.
FEATURES:
Plastic parts molded in tan, gray and brown.
Thorough research for a highly accurate model, including the scale, pose, and lifelike skin appearance of the dinosaurs.
Broad brown base with rocks, a hemp-palm tree, and a dead tree which may be posed upright or fallen on the ground.
Small pond in the corner covered by a clear blue plastic piece made to look like water.
Base simulates a rocky dry river bed.
Green cloth has cutout leaves for the hemp-palm tree.
Includes a large Triceratops dinosaur and two Velociraptors.
Velociraptor limbs may be interchanged for different poses.
Triceratops also sports two optional poses, running or walking.
Includes a small and large fish, a frog, and an amphibian creature.
Also includes a human figure for a represented size comparison.
Included nameplate reads "Triceratops Late Cretaceous Western North America."
Informative and pictorial instruction sheet includes a description of various body parts of dinosaur, plus intricate painting tips.
1 in stock