Team Yankee A Novel of WWIII : By Harold Coyle
Sale!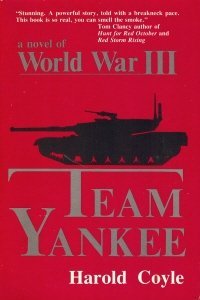 Team Yankee, A Novel of  WWIII: By Harold Coyle
ISBN: 0-89141-290-5
Team Yankee is a fictional account of a 1980's era Cold War gone Hot with a U.S. Army M1 Abrams tank unit in Central Europe during WWIII.  This book has an authentic military feel with a fast moving, hard hitting pace. This item can be shipped via media rate in the US.   Regular shipping rates apply at all other locations.
This book can be shipped "domestic media rate" in the contiguous 48 US states.  This is a major $avings.  Utilize the Hawker Hobbies Contact Us page to notify Hawker Hobbies regarding the media rate savings refund.  For all other non-domestic US destinations normal shipping rates apply. – See more at: http://hawkerhobbies.com/products-page/history-books/#sthash.TJ19Mppe.dpuf
1 in stock