Supermarine Spitfire F.Mk.II : Monogram
Sale!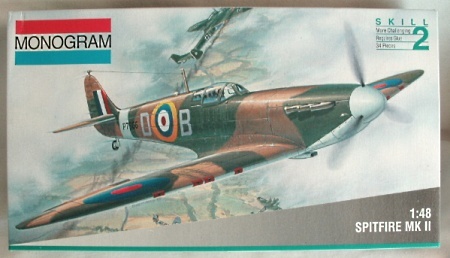 Supermarine Spitfire F.Mk.II: 1:48 scale
What can be said about the Supermarine Spitfire that hasn't been said before?  Graceful, Streamlined, Fast, yet all these adjectives cannot convey the loyalty students of air power have for this superlative British WWII warplane.  Although the Spitfire is loved by many, it is not the only reason the British Royal Air Force achieved air supremacy over their home Islands in the summer of 1940.  The Hawker Hurricane, the Gloster Gladiator, the Boulton Paul Defiant and to a lessor degree, Bomber Command, all had a role to play. However, it was the Spitfire that was responsible for fighting the Luftwaffe Bf-109 on anything close to equal footing. The Spitfire soldiered throughout the entirety of WWII and even post WWII as a carrier based naval fighter.  This astounding longevity cemented this aircraft a place in aviation history.  Even today, Spitfires are still flying in living history aviation museums as a testimony to the original spitfire design.  This 1:48 scale Monogram kit is still in the original shrink wrap and depicts a Spitfire F.Mk.II flying missions over South Eastern England during the summer of 1940.
1 in stock