Supermarine Seafire F.R. 46/47: Airfix
Sale!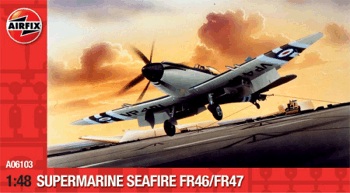 Supermarine Seafire F.R. 46/47: 1:48 scale
The Supermarine Seafire F.R. 46/47 was the last Spitfire example that was developed and flew combat missions.  Seafires F.R. 46/47 were flying during the Korean war off of British aircraft carriers that were stationed off the North Korean coast.  Seafires were tasked with fleet defense missions while other aircraft types were utilized for strike missions against North Korean and Chinese targets.
Model Details:
Engraved panel lines,
Detailed cockpit with pilot,
Separate boarding hatch and rudder,
Positionable flaps,
Prop with individually molded blades and multi-part spinner,
Centerline drop tank,
Auxiliary tank fairings,
Underwing rockets (x8),
Optional folded wings (Mk.47),
2-piece canopy,
Full Decal and color painting guide for 2 Royal Navy Fleet Air Arm aircraft:
FR.47 VP480 of 800 NAS onboard HMS Triumph, Korea, July 1950
FR.46 LA546 of Station Flight, RNAS Lossiemouth, Scotland, 1948
Decals include Korean War stripes, instrument markings and stencil data.
1 in stock