Sukhoi Su-25 Frogfoot: Revell of Germany
Sale!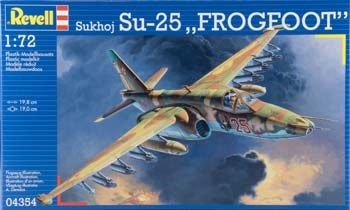 Sukhoi Su-25 Frogfoot: 1:72 Scale : Weathered box
This detailed 1/72 scale model kit of the Sukhoi Su-25 (NATO codename "Frogfoot"), is a Soviet Cold War era, single-seat, twin engine, ground attack aircraft developed by the former Soviet Union. Introduced in 1981, the Su-25 was intended to be used in close-air-support with Soviet Ground Forces.  Like many Soviet aircraft designs of the era, the Su-25 was a rugged aircraft that can take-off and land on unpaved runways. In addition to this the Su-25 has an impressive weapons load and can carry a wide variety of armaments, making it a versatile ground attack platform. Over 1,000 Su-25's of all variants have been built, and the type remains in active service with several air forces as of 2014.
Model Details:
recessed panel lines,
Detailed cockpit,
Detailed landing gear,
Optional position air brakes,
Two auxiliary fuel tanks,
Rocket pods,
Two short-range guided missiles,
Two air-to-ground missiles,
Two bomb pylons with bombs.
Decals for: Soviet and Czech Air Force
1 in stock