Su-27 World Flanker: Hasegawa
Sale!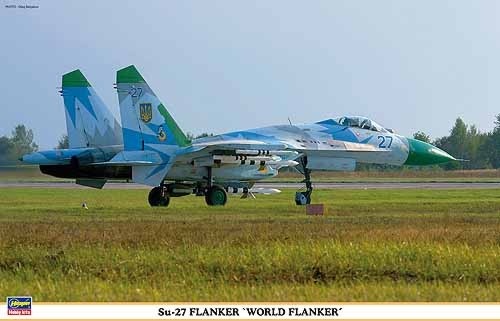 Su-27 World Flanker 1:72 Scale
Some time around 1970, the Soviets realized that the United States was developing a new fighter to replace the F-4 Phantom. They started a program to develop a new fourth generation fighter of their own. As both the US and Soviets figured out, you really can't get one aircraft to do all the roles necessary, and the results were the F-15 Eagle, the F-16 Falcon and the F/A-18 Hornet. The Soviet aircraft were the Su-27 Flanker and MiG-29 Fulcrum. Since there are "navalized" versions of both the MiG-29 and Su-27, they also covered the F/A-18's mission.
The Su-27 has the normal "air superiority" mission, and carries up to eight missiles. The Soviets also envisioned using it as a deep penetration fighter to shoot down tankers and AWACS aircraft, which fly quite a ways behind the front. For this reason, the Flanker is very large, a necessity to carry the fuel for a mission deep behind the lines. Like the F-15, there's also a Flanker with an "air-to-mud" mission.
1 in stock