Soviet Tank Hunters with /Dogs: Zvezda
Sale!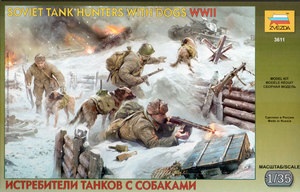 Soviet Tank Hunters with /Dogs 1:35 Scale
Soviet tank hunter dogs were animals trained by operative conditioning to run under enemy tanks while carrying an antitank bomb strapped to their back.  This was a brutal  way to destroy a tank.  In practice this cruel method of warfare often backfired.  In training the dogs were conditioned to run under "diesel" powered vehicles, but when in combat they became confused because the German machines were "Gasoline" powered.  The German infantry also shot and killed a large percentage of the dogs before they got close to the intended targets. The surviving dogs then ran back to the Soviet front lines while still carrying the very live and very active bomb.  This cruel experiment using animals as suicide weapons was a complete failure.  The Soviet WWII propaganda machine put a dubious spin on this experiment with a claim of "x number" of enemy machines destroyed by the bomb-dogs. In hindsight this is extremely questionable.
1 in stock