Renaissance Faire: Atlas Games
Sale!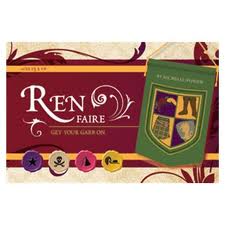 Ren Faire: Atlas games

Playtime:      1hr
Number of Players:        2-4
Ages:   13+
You and your friends are newbies at the Renaissance faire. Food, music, mock combat … it sounded like some kind of off-beat rock concert! Problem is, you stick out like a sore thumb. In a crowd of buccaneer hats and faerie wings, you're the only ones in shorts and t-shirts. Now you and your friends have one afternoon to assemble the ultimate Renaissance costume, but you're low on cash and the only way to earn more is to perform for the crowd!
In the Ren Faire card game, your goal is to outfit your Character with Costumes whose icons fill the slots on it. To do this, you play Performance cards that award you coins for doing silly stunts, then buy the transparent Costume cards that stack above your Character card.Ppl
1 in stock