Panzer 38t/Swiss LTL-H Walk Around: By Hans-Heiri Stapfer
Sale!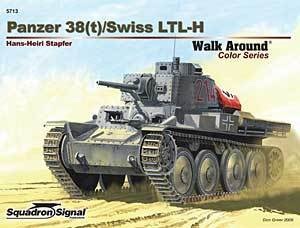 Panzer 38t/Swiss LTL-H Walk Around in Color: By Hans-Heiri Stapfer
The Panzerkampfwagen 38 (tschechisch) – Armored Combat Vehicle 38 (Czech) was one of the most important tanks in the Wehrmacht arsenal in the first half of WWII. Originally produced near Prague as a light tank LT vz. 38 – Lehký Tank vzor 38, the vehicle along with its manufacturing plant were appropriated by the Germans after their occupation of Czechoslovakia in 1939. Rechristened as the German name Pz.Kpfw.38(t), the vehicle saw action in the Polish and French campaigns and took part in the invasion of the Soviet Union during the summer of 1941. The relentless flow of redoubtable Soviet T-34 tanks soon made the Panzer 38(t) obsolete, however, forcing its withdrawal from front-line duties on the Ostfront in early 1942. The vehicle continued to serve in anti-partisan operations, and there were still 229 Panzer 38(t)s in active service with the German Army in September 1944. A few even confronted the Western Allies during their advance into the Third Reich late in the war. Illustrated with over 300 photographs, color art, and profiles. 80 pages.
4 in stock