North American P-51D Mustang: Monogram
Sale!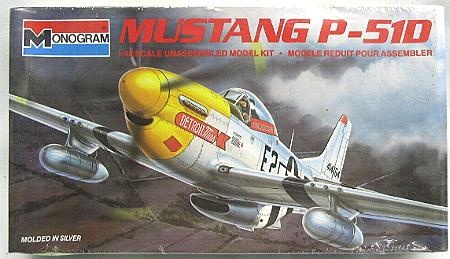 North American P-51D Mustang: 1:48 scale
This outstanding American air superiority fighter was powered by the legendary British Rolls Royce Merlin engine, and armed with no less than six .50 caliber machine guns.  The late war introduction of drop tanks provided the Mustang the ability to escort American heavy bombers all the way to Berlin and back.  Swarms of Mustangs overwhelmed and destroyed the cream of the crop of the Luftwaffe fighter Corps. This in turn paved the way for Allied dominance over the European skies.  With Luftwaffe mastery of the European Skies all but vanished, the Pivotal D-Day landings went by with no intervention from the Luftwaffe and Hitler's 1000 year Reich was all but finished. Many Allied nations utilized the Mustang during WWII and it found its way into many post WWII air forces as well.  This model kit was originally released in 1977 and has been rereleased in many different decal options since then.  Our option is, "Detroit Miss", a P-51D that saw service with the USAAF 8th Airforce based in England during WWII.
2 in stock