New York: Queen Games
Sale!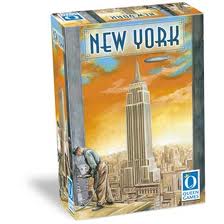 New York: Queen Games

Playtime: 45-60min
Number of Players:      2-6
Ages:   8+
Players collect four types of currencies and use those funds to purchase tiles that they assemble into their own mini-metropolis, connecting the paved street edges on the tiles to create a coherent network of roads. The building tiles come in six colors, and players score for their holdings three times during the game, earning points for having the most of a color as well as for their longest road.
1 in stock