Mig-21 MF Fishbed J: Academy
Sale!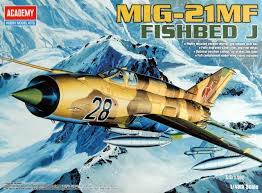 Mig-21 MF Fishbed J: 1:48 scale
The Mikoyan-Gurevich MiG-21 is one of the most widely used supersonic fighter aircraft in the world. They were and still are the backbone of fighter air forces of many nations around the world, and the MiG-21 will remain in wide spread service. The MiG-21MF was an improved variant using the more powerful R-13F-300 engine, for greater range and a higher ceiling. The armament consists of 23mm Gsh-23 twin-barrel cannon with 200 rounds, ASP-PF-21 gun sight and a camera gun. It has four external wing store stations. Various combinations of guided or non-guided rocket missiles, bombs and rocket launchers can be carried.
Model Details:
Cockpit interior and detailed landing gear bay,
Fully engraved panel lines with rivet detail,
Full complement of under-wing weaponry,
Optional position canopy, air brakes and flaps.
Decals for Soviet, Hungarian or Indian Air Force.
1 in stock