Messerschmitt Bf109E-4/7 tropical: Tamiya
Sale!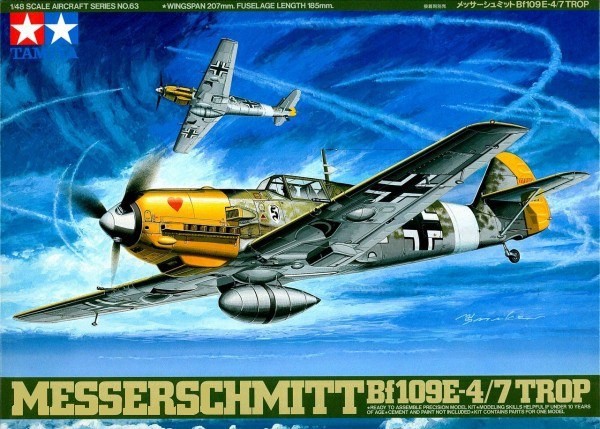 Messerschmitt Bf109E-4/7 tropical: 1:48 scale
During the first half of the WWII, the Messerschmitt Bf109 E was the mainstay fighter of the Luftwaffe. The E-4 housed a 1,100 hp Daimler Benz DB 601Aa engine and was armed with two 7.9mm machine guns on the nose, as well as a 20mm cannon in each wing.  Some aircraft also had bulletproof glass used to reinforce the front of the canopy.  However, with a flight range of only a few hundred miles, the E-4 planes were just limited to barely fifteen minutes of combat over British skies. Thus, the bombers were not given sufficient support and they sustained heavy damage.  One result of this was that the Luftwaffe strategy to bomb England into surrender ended in failure. To deal with this tactical drawback, the E-4 planes were equipped with an additional 300L fuel tank. The improved fighters, the E-7 variant, were deployed at the end of 1940.  After the Battle of Britain, the E-4/7 aircraft were sent to the front lines of the North African theatre of operations.  As the Bf109 F-type production advanced, the E-4/7 was retired from the front lines.  Some veteran pilots continued to use the E-4/7 mainly for ground support duty until the summer of 1942.   This 1:48 scale Messerschmitt Bf-109E-4/7 model kit by Tamiya is one of the best model kits of this iconic fighter that has been produced.
1 in stock