Mercs Game Rules Book
Sale!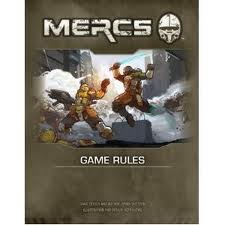 Hard cover Mercs  game rules book  
ISBN-13: 9780615405506
ISBN-10: 0615405509
For beginners and advanced players, the MERCS Rule Book is extremely easy to read, with in-game examples, clearly labeled high resolution photos, and sidebars for expanded explanations on difficult concepts. Created to make teaching and looking up questions easier, the quick reference sidebar provides an easy way to find the answers you're looking for fast! Complete breakdown of CCC, KemVar, USCR, and FCC. Find out everything you need to know about your faction and determine the strengths and weaknesses of your adversaries. Spot UV varnishing on a hard gloss lamination cover 176 four color pages on 157 gsm matte art paper Case bound, Smyth sewn Over 100 artist illustrations 221 full color photos!
1 in stock