Iwo Jima Flag Raisers: Italeri
Sale!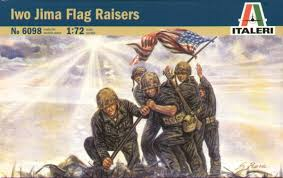 Iwo Jima Flag Raisers: 1:72 scale
Authentic 1:72 scale unassembled diorama of the six U.S. Soldiers and Marines who raised the American flag on Iwo Jima during WWII while coming under heavy Japanese fire.  This "still life" moment was actually an image from a movie of the entire flag raising procedure.  This unassembled model kit is a powerful symbol of combat in the Pacific theatre during WWII.
1 in stock