Heuschrecke IV 10.5cm Auf Waggentrager: Trumpeter
Sale!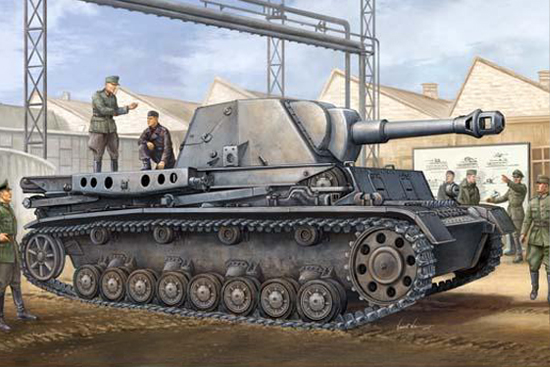 Heuschrecke IV 10.5cm Auf Waggentrager IVb "Grasshopper": 1:35 scale
The German high command wanted a self-propelled howitzer that retained the ability to dismount the cannon and use it as towed artillery. Considerable effort over a number of years by a variety of firms went into this objective, however none were considered true successes. Krupp's attempt to solve this problem involved mounting a 10.5cm light field howitzer on an extensively modified Hummel chassis. The engine and cooling system were moved to the rear of the vehicle, in positions much as they were on the Panzerkampfwagen IV. A new glacis and superstructure was fabricated by Stahlindustrie and  then installed by Krupp.  This design became known as the Heuschrecke IV 10.5cm Auf Waggentrager. or in English, the 10.5 centimeter "Grasshopper" self propelled artillery.
1 in stock