Heinkel He 219 "Uhu": Revell of Germany
Sale!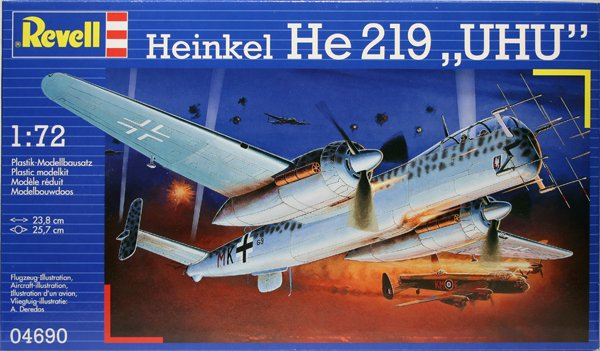 Heinkel He 219  "Uhu" (Owl): 1:72 scale
The Heinkel He 219 was one of the most effective German nocturnal night fighter aircraft. It was used as a night fighter and was the very first aircraft produced in series production with ejection seats.  Its capability at the front was tested on the night of 11/12 June 1943 by Squadron Leader Streib of NJG 1 night fighter unit out of Venlo, Holland, who on this sortie was able to shoot down five enemy bombers. The He 219 achieved considerable success in combat against Allied bomber units due to the incorporation of secret Luftwaffe weapon technology such as the upward firing "Schrage Musik" (Mk.108: 30mm cannon) that fired straight up into the relatively undefended under-fuselage of attacking Royal Air Force Avro Lancaster bombers.
Model Details:
Realistic surface detail
 Movable propellers
Undercarriage can be extended or retracted
 Authentic Luftwaffe Radar antennae
Decals for 2 versions
1 in stock