Heinkel He-111P : Revell Pro Modeler
Sale!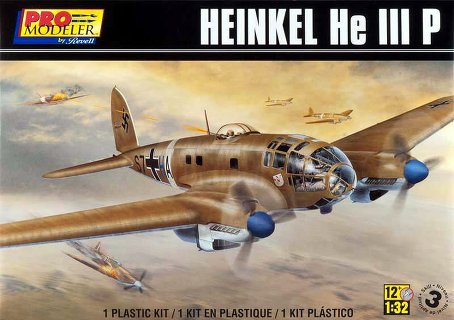 Heinkel He-111P : 1:32 scale: (on sale)
The Heinkel He-111P has a top speed of  225 mph (262 kg/h) and could easily outgun and outrun most early WWII fighters.  During the "Battle of Britain" the shortcomings of medium bombers against  a first line defensive network became apparent.  However, during the nocturnal Blitz while attacking the United Kingdom at night, the He-111P found it could function with a degree of success over England.  Only when effective RAF radar guided night fighters operated in strength did the He-111 start to endure prohibitive losses over England again.
Model Details:
Fully glazed, asymmetric nose;

Complete detailed interior;

three MG 15 machine guns;

Optional opening bomb bay with eight 250 kg bombs,
 Decal versions: 
 Heinkel He 111P-1, 111.KG 27 "Geschwader Boelcke," Delmenhorst, Germany, 1940;

 Heinkel He 111P-1, 5./KG 54 "Totenkopf-Geschwader," Coulommiers, France, 1940

 Heinkel He 111P, ST.G.3, North Africa.
Out of stock