Hauptsturmfuhrer Otto Skorzeny: Dragon/Cyber Hobby
Sale!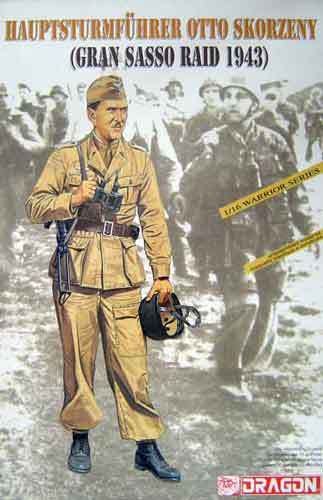 Hauptsturmfuhrer Otto Skorzeny
"Gran Sasso Raid 1943" 1:16 scale 

Otto Skorzeny was chosen as the field commander to carry out the rescue mission that freed the deposed Italian dictator Benito Mussolini from captivity.  Skorzeny was also the leader of Operation Grief, in which German soldiers were to infiltrate through enemy lines, using their opponents' language, uniforms, and customs to cause as much destruction and sabotage as possible.   German soldiers did this during the battle of the Bulge to the initial surprise of American troops.  Most of the German soldiers that engaged the American soldiers in this manner were later executed as spies.  Hauptsturmfuhrer Skorzeny was not among those who were shot.
1 in stock