Guardians of Graxia: Petroglyph
Sale!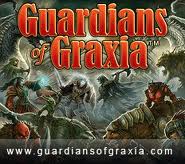 Guardians of Graxia: Petroglyph  On Sale
Playtime:    45-60min
Number of Players: 1-2
Ages: 10+
The game uses cards to represent forces deployed and maneuvered on a hexagonal-tiled map grid. Starting with a small deck of 12 cards, players build their empire by buying the best cards to prepare them to out-smart and out-maneuver other players to obtain trophies and prestige in the World of Graxia.  Graxia is a planet with mystical energies allowing for entire continents to drift high in the sky. Guardians create enchanted portals which are the only means to cross from one drifting continent to another. The portals are used by Guardians to transport armies to conquer the land found on the other side.
1 in stock