Got Em': Calliope Games
Sale!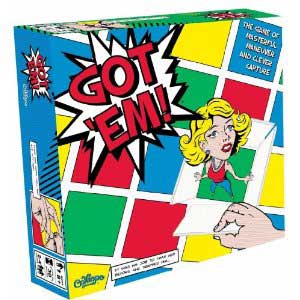 Got Em': Calliope Games
Playtime: 30min
Number of Players:   2-4
Ages:   8+
Got Em' is  a delightful way to Corner Your Friends! Trap their pawns in one of two games of escape and capture. In Bright Got Em'!™ you outsmart and corner your opponents through savvy card play, sly movement, and clever placement of blocking walls. In the still-casual but even-trickier Brainy Got Em'!™ you toss aside card actions in favor of a purely strategic challenge. Both games share the same goal, the same exciting intrigue, and the same social fun.
1 in stock