Fw 200 C-5/C-8 Condor: Revell of Germany
Sale!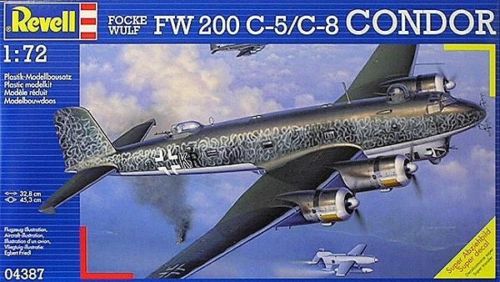 Focke Wulf  Fw-200 C-5/C-8 Condor: 1:72 scale  (on sale)
The German Focke-Wulf Fw 200 "Condor" was one of the world's first modern long range aircraft.  Winston Churchill, the British wartime prime minister of England, gave the German Condor the nick name "the Scourge of the Atlantic".  In 1939 the imperial japanese navy ordered a reconnaissance version of the civil Fw 200, but this was never delivered.  Instead, these machines formed the basis for the newly formed Luftwaffe Kampfgeschwader 40 (KG 40).  From 1942 onward, the Fw 200C-4, was the Condor variant built in the largest numbers.  This aircraft was used for long range reconnaissance  and anti-shipping missions.  One of the most important uses of the Fw 200 was to search for allied convoys and radio the location of the convoy to patrolling German U-boats for a mass attack.  This strategy was called "a wolf pack".  Most Fw 200 were equipped with the FuG 200 "Hohentwiel" shipping radar, which was characterized by the antler like antenna array on the nose of the aircraft.  During WWII, the Heinkel corporation developed a special remote controlled guided bomb that was widely used by the Condor.  This weapon was designated the Hs-293.  The Condor variant that carried this weapon was the Fw-200C-5/FK.  The last version of the Condor was the C-8 series of which just a few were built in the fall of 1943 to the beginning of 1944.   In total, 275 Condors were built.
1 in stock