Food Fight: Cryptozoic
Sale!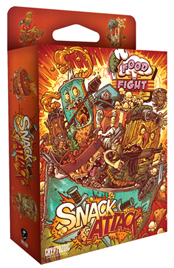 Food Fight : Cryptozoic

Number of Players: 2-6
Ages: 13+
The food world is in chaos and the food mascots have declared war. No longer content to let consumers decide which food is best, they've assembled their armies and marched them to battle. Breakfast, lunch, dinner– three words that typically bring people together, now battlefields that are tearing the food world apart. Bacon vs. eggs. Burger vs. french fries. Mealtime compliments now forced to spoil one another and toss the leftovers down the garbage disposal. Who will win the Food Fight?
1 in stock