Focke Wulf Fw-190 A-4: "JG1 Oesau": Hasegawa
Sale!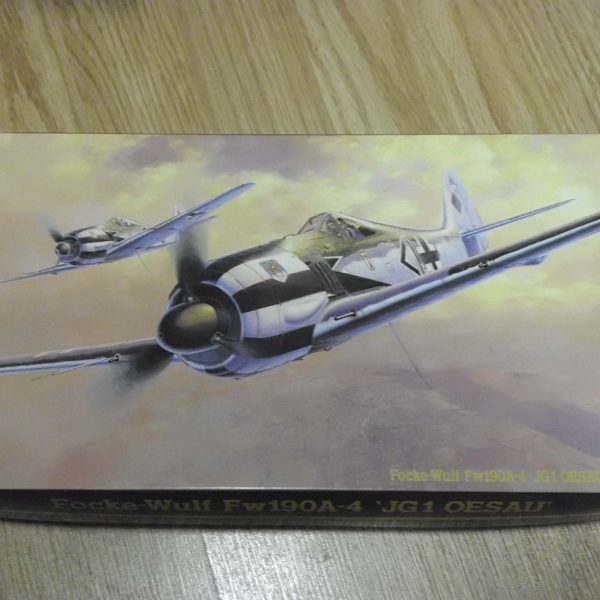 Focke Wulf Fw-190 A-4: "JG1 Oesau": 1:48 scale
Detailed 1/48 scale model kit of the Focke-Wulf Fw190, a World War II single-seat, single-engine fighter of the German Luftwaffe. The Fw190 is generally considered by historians as one of the best fighters of its generation. Often called the "Butcher-bird" by Allied pilots, the 190 was a fighter aircraft that inspired both fear and respect by those who encountered it in combat. Originally developed by Kurt Tank to serve as backup for the highly successful Messerschmitt Bf109, the Focke-Wulf 190 quickly proved itself as a highly capable frontline fighter aircraft, and before long, thousands of Fw190s were fighting alongside Messerschmitt 109s over skies of Europe. Over 20,000 Focke-Wulf 190 of all variants were produced by Germany in the Second World War, and some of the Luftwaffe's most successful fighter aces in World War II flew the Fw190. The A Series Fw190 was the original short-nose design, and the type was fitted with a variety of BMW radial engines and armed with four machine guns (two fuselage-mounted & two wing-root mounted) and two wing-mounted 20 mm cannons.  The A-4 model Fw190 was equipped with the same engine (BMW 801 D-2 radial) and basic armament as the A-3, but with updated radio gear and under-wing bomb racks, which could be fitted with a variety of bombs, heavy cannons, and cameras for reconnaissance missions. This model kit features decal markings for Luftwaffe I./JG1 "OESAU" Maj. Hans Ehlers.
1 in stock