F-104G Starfighter: Revell of Germany
Sale!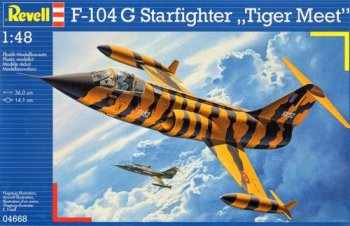 F-104G Starfigher "Tiger Meet": 1:48 scale
The introduction of the Starfighter into the Belgian Air force in 1963 was a quantum leap in capability.  Even today the Starfighter's performance would still be considered exceptional.  A zoom climb from sea level to 44,600 ft in 4 minutes and 22 seconds and an acceleration from 550 mph to 1305 mph at 35,000 ft in just over 4 minutes.  All of these statistics were accomplished while carrying two Sidewinder Missiles on the wings and having a maximum rate of climb of 800 ft/s.  The Belgian Air Force deployed the Starfighter as a Fighter-Bomber with the 23rd and 31st Squadrons of the 10th Fighter-Bomber Wing at Kleine Brogel.  This Air Wing later became a member of the NATO Tiger Meet Association.  F-104G FX-52 received a Tiger camouflage scheme for the 1978 Tiger Meet which was the first time for the Belgian Air Force and the beginning of a splendid series.
1 in stock