Douglas A-20g Havoc: AMT/ ERTL
Sale!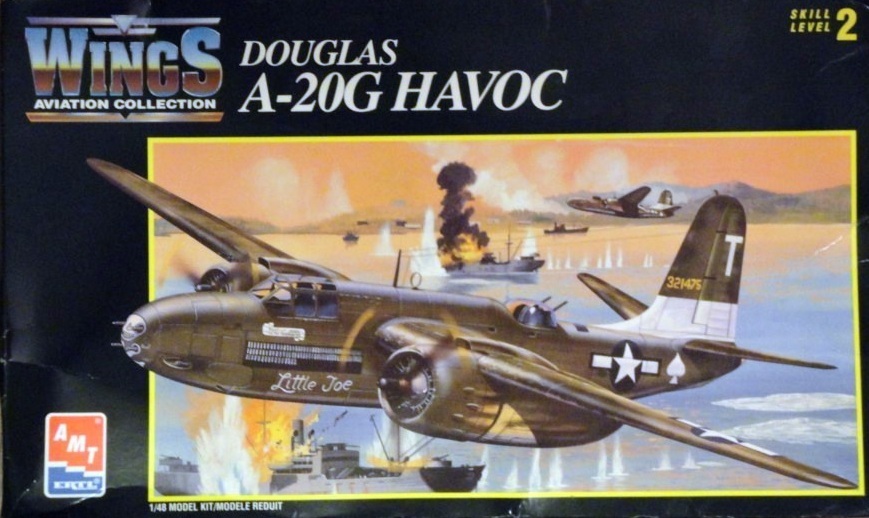 Douglas A-20g Havoc: 1:48 scale
This AMT kit represents the ultimate gunship version of the A-20, the A-20G. American combat crews in Tunisia and the Pacific, seeking ways to enhance the firepower of their aircraft, field-modified their planes by getting rid of the bombardier position and filling the glass nose with .50 caliber machine guns. It was decided to manufacture a solid "gun-nose" version, thus the G.
The first 250 aircraft (G-1's), had four 20mm cannons plus two .50 caliber machine guns. This setup was not as effective as hoped and most were sent to Russia. All subsequent aircraft had six .50 caliber nose guns. Beginning with the A-20G-20, the older single-gun, hand-operated, open rear defensive position was replaced by a power-operated twin .50 caliber Martin turret.
Nearly 3000 G's were produced, making it the most-manufactured version of this aircraft. Production ceased in September 1944, and was replaced by a bigger, heavier, faster, more powerful big bomber, the A-26 Invader.
This AMT/Wings kit provides markings for two aircraft with proud combat records in the Pacific Theater of Operations: "Little Joe", of the 389th BS, 312th BG, and "Little Isadore", of the 89th BS, 3rd BG, which both flew with the Fifth Air Force. "Little Joe" is known to have served in the Phillippines and "Little Isadore" may have as well.
1 in stock