Dornier Do335A Pfeil "Arrow" : Tamiya
Sale!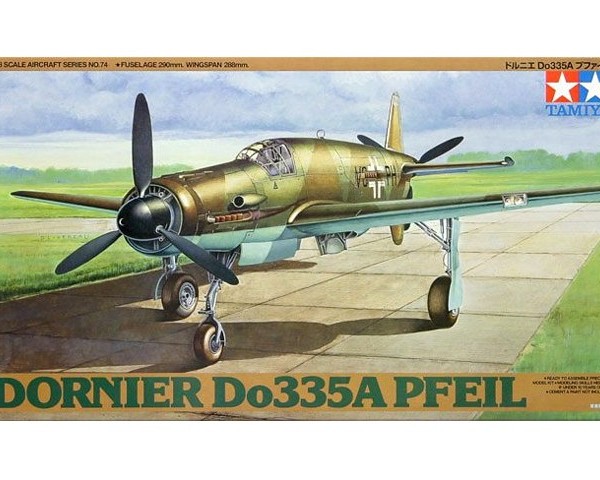 Dornier Do335A Pfeil "Arrow" 1:48 scale
The Dornier Do 335 "Arrow" or Pfeil, as the Germans called it, was arguably the best piston aircraft of the time.  The Arrow had a number of unusual distinctions. It was the only military aircraft of the time to have a push-pull power plant/airframe. It was the only aircraft of WWII to have an ejection seat. It was the only aircraft that had explosive bolts in the rear fuselage designed to separate the tail section in order to facilitate a successful bail-out if necessary. And It was also the fastest piston powered aircraft, with a maximum speed of 417 mph at an altitude of 26,000 feet.  The first flight was in Autumn of 1943. The flight testing phase went very well as the  plane flew and handled better than expected.  There were no structural problems at all, and only one crash occurred due to an overheated engine which caught fire. The first production version, the A-1 was delivered in November 1944. Luckily too few and too late to help the Third Reich. The Arrows armament included two fuselage mounted 20mm cannons, two wing mounted 15mm cannons, and if that weren't enough a 30mm engine mounted cannon. If production had been expedited from the start this heavily armed plane might have played serious havoc with the Allied bombing missions.
A total of ninety aircraft were rolled out including prototypes, test planes, and trainers. Due to critical delays in materials  a mere total of thirty-eight production Do-355's were delivered to the Luftwaffe. 
Nothing in the Allied inventory could catch it. 
1 in stock