Boeing B-17G Flying Fortress: Monogram
Sale!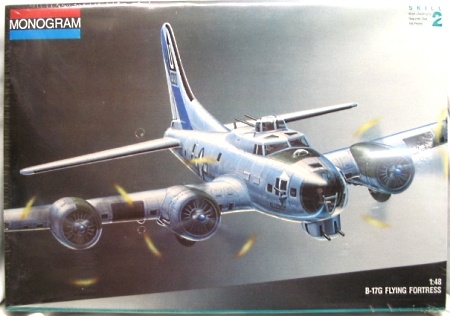 Boeing B-17G Flying Fortress: 1:48 scale
(This is the 1991 release of the Revell/Monogram B-17G )
The Boeing B-17 Flying Fortress was, arguably, the most famous Allied heavy bomber of  WWII. It didn't carry the largest bomb load, or fly the fastest, but it was rugged and beloved by its crews.  Thousands of men lived, fought, and died in the remarkable Boeing B-17. Because it didn't have the range to fly the vast expanses of the Pacific Ocean most B-17s were sent to the European theater where they served with distinction and proved that the name "Flying Fortress" was not just a name but a rugged fact.
Detailed surface structure.
Detailed cockpit with seats and controls.
Detailed instrument panels.
Detailed compartments for bomb aimer and navigator.
Moveable rotating gun turrets under the nose, under the fuselage and behind the cockpit.
Decal Options:
#1: "El Lobo II" s/n 42-32101, 457th BG 748th Sqdn, Nov 1944.
#2: "Chow Hound" s/n 42-31367, 91st BG 322 Sqdn, 1944.
1 in stock