Boeing B-17G Flying Fortress: Academy
Sale!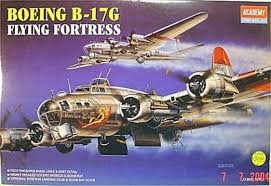 Boeing B-17G Flying Fortress:  1:72 scale
From 1935 until April of 1945, Boeing produced a total of 12,726 B-17 Flying Fortresses of all types. The last production type and most numerous was the B-17G, which had the greatest bomb load and range of any version. The "G" version added a chin-mounted gun turret to fend off oncoming frontal attackers. It was the B-17G that did the most damage to Germany in WWII with countless daytime raids that devastated German war production. The cost of a B-17G during WWII was only $238,329 compared to the billion dollar aircraft of today. There are still over two dozen B-17's in museums or flying collections. Academy's big 17″ wingspan, 1/72 scale version, leaves nothing out. This model kit features fully engraved panel lines with rivet detail, a highly detailed cockpit and bombardiers station, detailed bomb bay, positionable landing gear and bomb bay door, gun turrets and .50 caliber machine guns, 600 pound bombs, and the historic decal markings for the famous "Carolina Moon" B-17G flying fortress.
Model Details:
 Optional waist gun positions,
 Multiple decal options,
 "Cheyenne" tail gun position,
 Detailed interior and bomb bay,
 Engraved panel lines with appropriate rivet detail.
1 in stock