B-52H Stratofortress : Minicraft
Sale!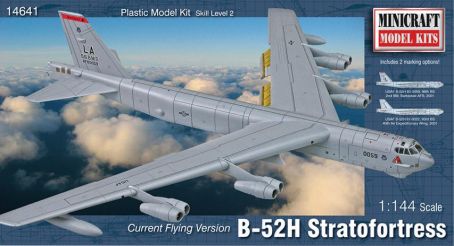 B-52H Stratofortress "current version" : 1:144 scale
First flown in the 1950's and updated versions continue to serve the modern USAF.  This 1/144 Minicraft B-52H represents the most current B-52 with added antennas, electronic counter-measure systems, and low light vision enhancements typically found on modernized B-52's. This kit features poseable flaps, poseable landing gear and decals for two B-52's currently in operation.
USAF B-52H 60-0059, 96th BS, 2nd BW, Barksdale AFB, 2001.
USAF B-52H 61-0022, 93rd BS, 40th Air Expeditionary Wing, 2001.
Decals printed by Cartograf.
Out of stock