AVRO Lancaster B. Mk. I/III: Hasegawa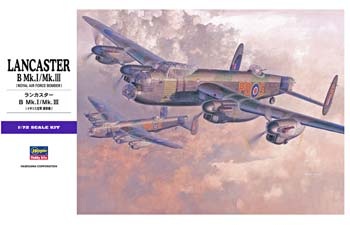 AVRO Lancaster B. Mk. I/III: 1:72 Scale
The Lancaster heavy bomber first took flight in January 1941, and it soon became one of the main heavy bombers of the RAF Bomber Command. The Lancaster was a huge bomber with an large bomb bay capable of carrying very heavy bomb loads. It carried some of the heaviest conventional munitions of the World War II.  RAF Bomber Command loaded the Lancaster with 4,000 lb., 8,000 lb., 12,000 lb., and in late WWII, the massive 22,000 lb. Grand Slam "Earthquake bomb".  This very powerful payload earned the Lancaster the nickname the "Grand Slam Bomber".
Model Details:
Detailed exterior w/ engraved panel lines.
Detailed landing gear w/ boxed in wheel wells.
Detailed payload and defensive armament
Authentic cockpit interior and bombardier station
RAF markings.
2 in stock