A-6E Navy Attack bomber: Revell of USA
Sale!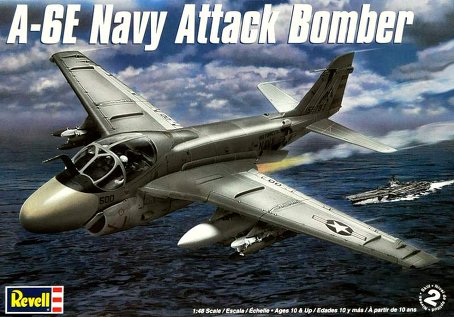 A-6E Navy Attack Bomber: 1:48 scale
The A-6 Intruder served the U.S. Navy and the U.S. Marine Corps from 1963 and 1997. The definitive A-6E was equipped with a Target Recognition and Attack Multi-Sensor (TRAM) system, which provided pinpoint accuracy in aerial attacks. Kit features a detailed cockpit with two crew figures, external armament (including Mark 20 "Rockeye" cluster bombs, Mark 82 "Snakeye" high-drag bombs, "Harpoon" anti-ship missiles and optional external fuel tanks), detailed landing gear and two decal marking options: 1. VA 85 Black Falcons, U.S.S. Forrestal, 1978 and 2. VA 35 Panthers, U.S.S. Nimitz.
1 in stock